Dear Friend,

The past two years have been tough. The COVID-19 pandemic, racialized violence, widening economic disparity, climate collapse, and the active dismantling of our democratic institutions have dominated our lives, with no clear end in sight.

And yet, I am grateful to be able to work directly with our community of changemakers whose knowledge, passion, and drive results in real, positive change. These resident leaders are the reason ioby exists, and they are the center of our work. ioby could not do this work without our community of partners, donors, and supporters; thank you for your continued investment in our communities, and in our mission of resident-led change.

In 2021, ioby supported 385 local projects to raise $3.5 million for real, tangible solutions to some of our most pressing challenges. In this Giving Report, I am excited to reflect some highlights from 2021, and share some of what's next.

I'm thrilled to announce that in 2022, we are migrating to a new ioby.org. ioby's new platform, like everything we do, is rooted in deep listening and years of work with our communities, particularly BIPOC communities whose needs have often been overlooked. ioby believes that technology can never be value-neutral, so we continually strive to build ours toward equity. That's why our racial justice work last year included launching a new Digital Inclusion Policy, rooted in our values, to guide our future decision making as an equity-focused intermediary. And this same kind of deep listening has shaped our fundraising coaching, tools, fiscal sponsorship, match programs, and the resources we offer.

ioby's work has always been about making it easier for residents to step into civic leadership. Taken together, even small-seeming local actions are the first steps toward repairing our tattered civic infrastructure. We have seen leaders in neighborhoods nationwide rise to the critical challenges of the past two years. And we truly believe these local leaders are best positioned to lead our way out of crisis, whether long-standing or sudden. It's our job to support and follow their lead.

With immense gratitude,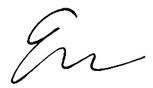 Erin Barnes
Co-Founder & CEO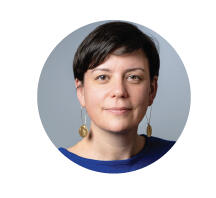 Spotlight: What We Learned in 2021
ioby has long provided a source of critical funding for civic leaders and activists who need it most. In 2021, we doubled down on serving unincorporated groups, the "deep roots" who often have the greatest need for critical funding in real time. We have seen the ascendance of mutual aid networks such as Bed-Stuy Strong, who rose up quickly, despite a lack of formal leadership or 501(c)3 status, to meet the urgent needs of neighbors in crisis.

This past year, fully half of all ioby projects were BIPOC-led, and many have an explicitly anti-racist focus. We are proud to support projects like BlackSpace, whose work is explicitly rooted in Black urbanism and undoing systemic, racialized violence toward Black communities. This is the work of movement-building, and it's happening all around us, block by block.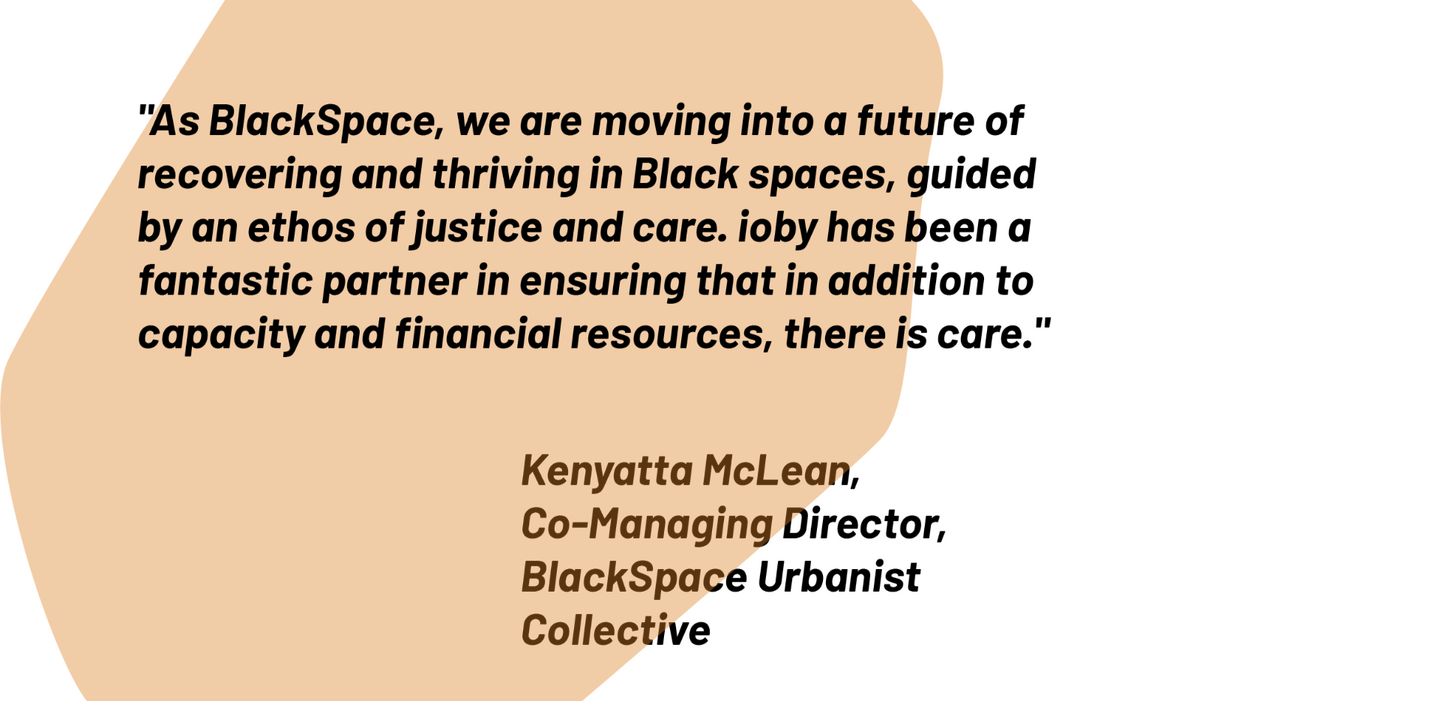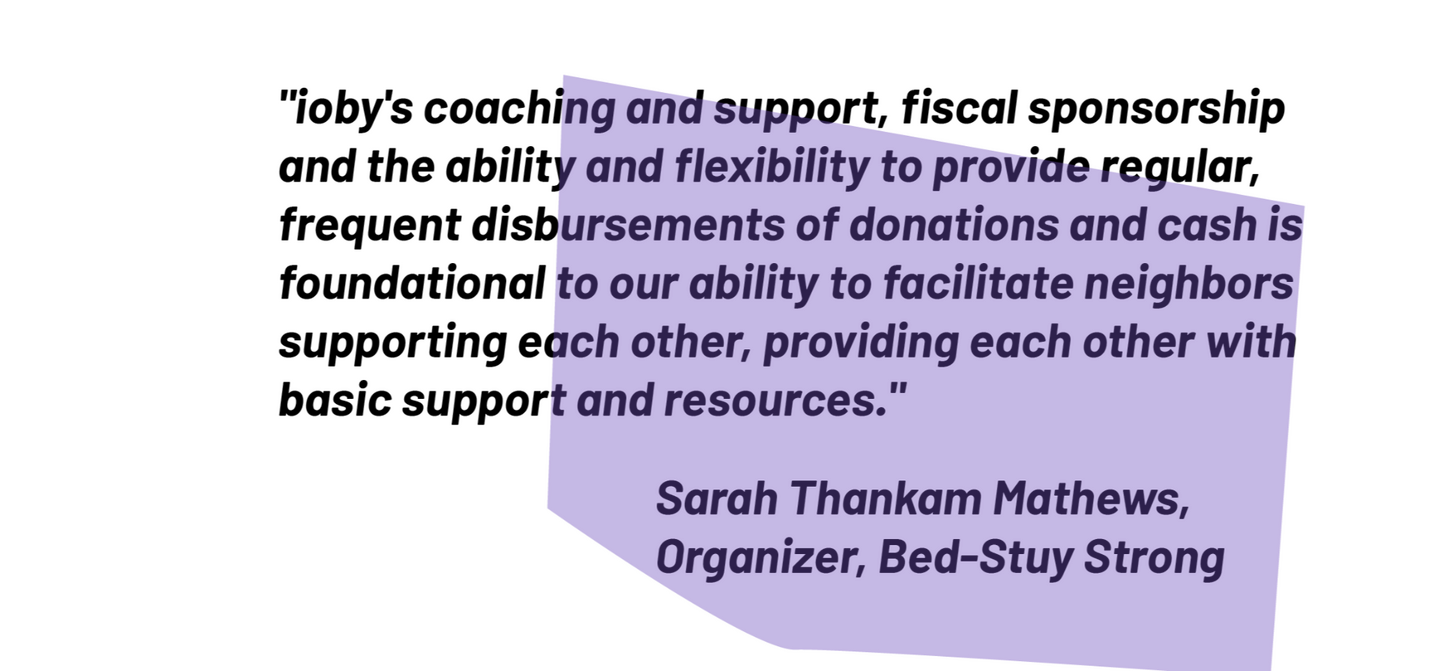 Positive Change That Builds Community Power
What does a better world look like? Is it safer streets? Racial justice? More beautiful neighborhoods with more places to play? Or is it the sense that the power to make a better world lies in our own hands and the hands of our neighbors?

At ioby, everything we do—from the online fundraising tools we build to the way we work with local leaders to plan their fundraising campaigns—is rooted in our belief in the powerful good ideas of our own neighbors. Real, lasting, positive change at the community level can only be led by the people who are closest to the challenges and opportunities within their own communities.

That's why our work with local leaders is about so much more than raising money. It's about building trust. It's about building power. It's about putting into action our belief that our communities, our democracy, and our world can be better—but only if we truly listen to each other and let our neighbors lead.

Beyond Crowdfunding: Practical Tools for Real-World Change
So far, neighbors have raised $16.3 million for 3,164 projects using ioby's platform and services. That's a lot of positive, local change. But what does it mean to work with ioby?

Since our founding in 2008, we've built our online tools and support services on the belief that crowdfunding can be a powerful tool to put money into the hands of community leaders who are best positioned to make positive, local change. But ioby is so much more than a crowdfunding platform: for years, we've listened to the communities we serve, and have grown services that can magnify these leaders' impact beyond the dollars they raise. We offer: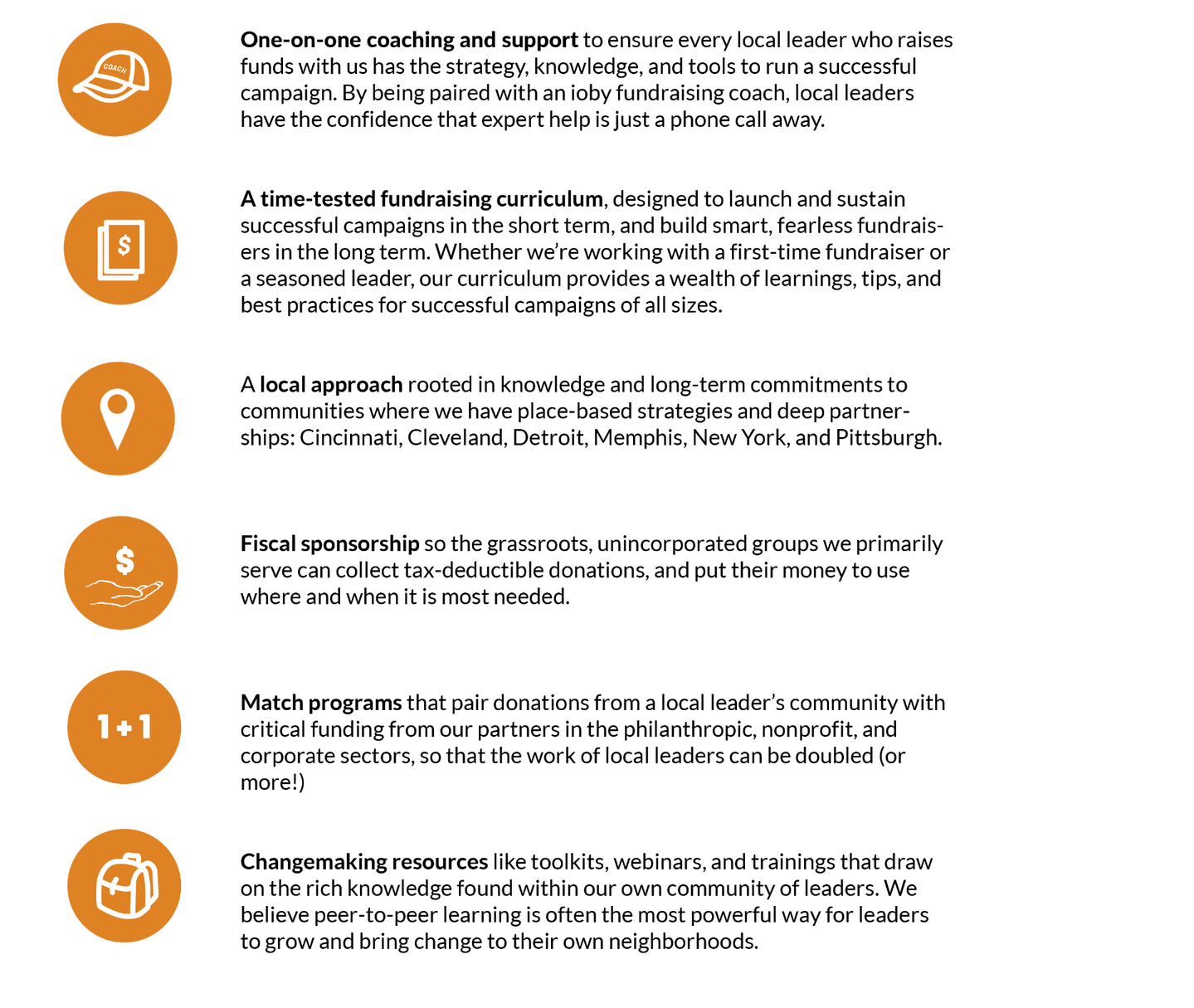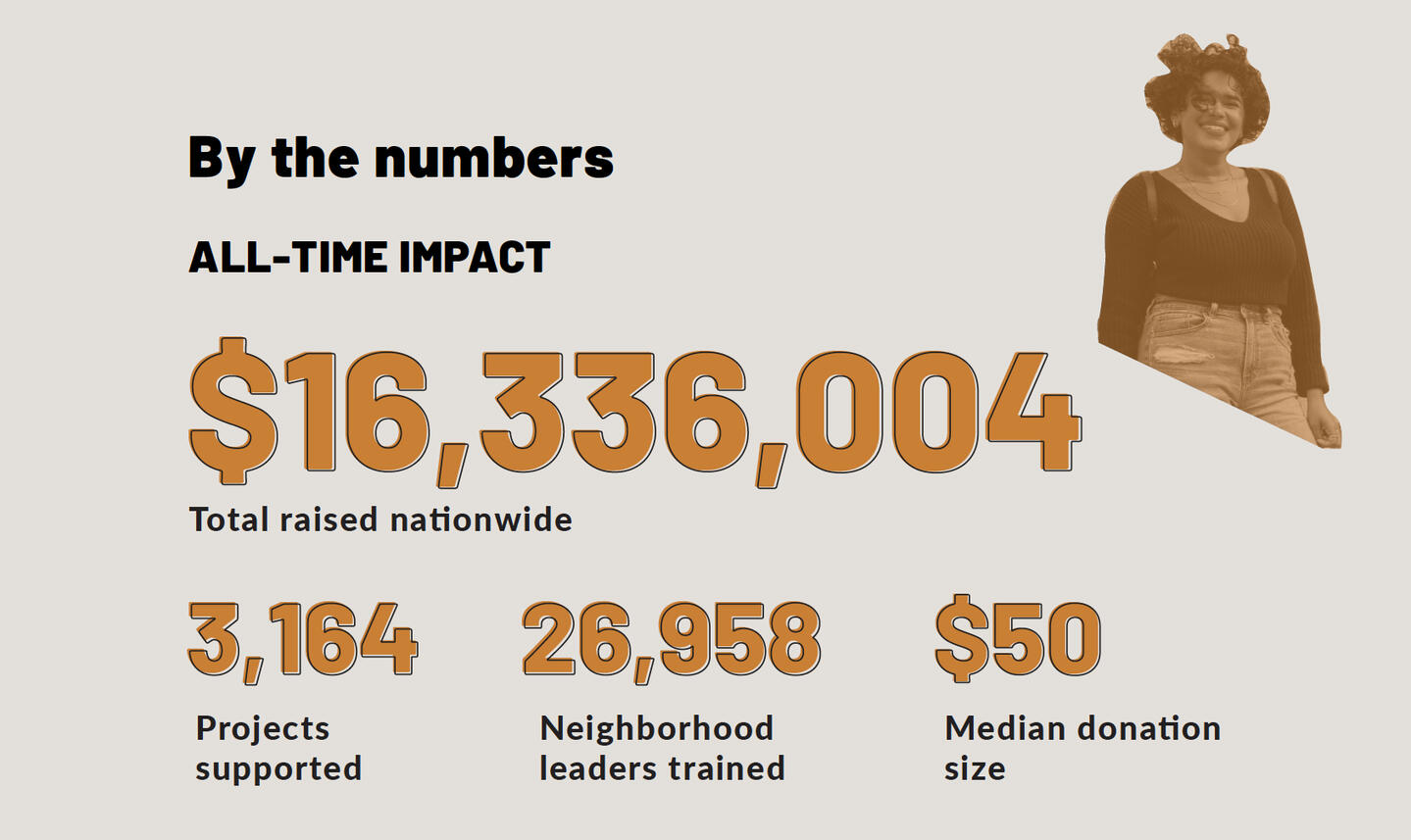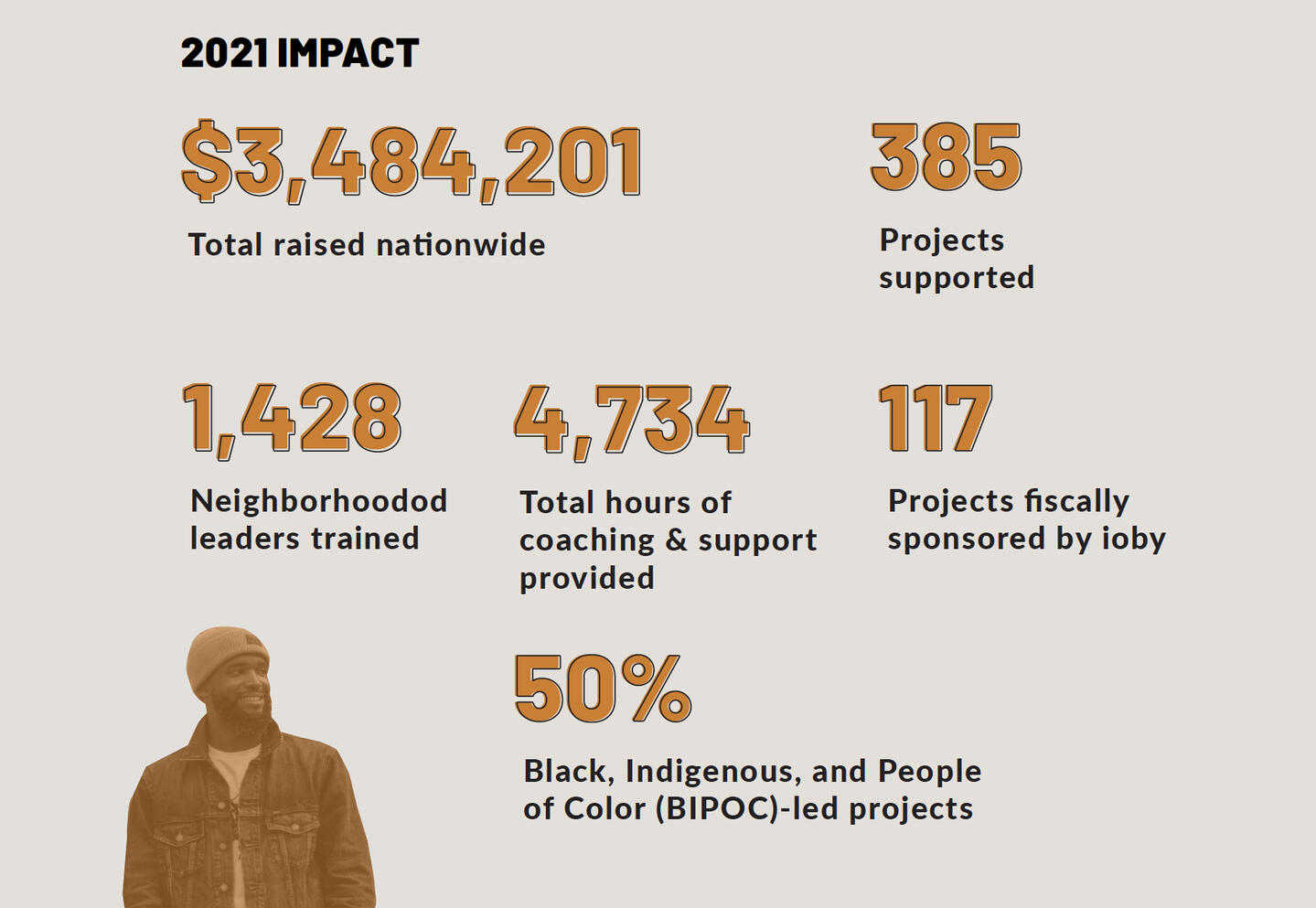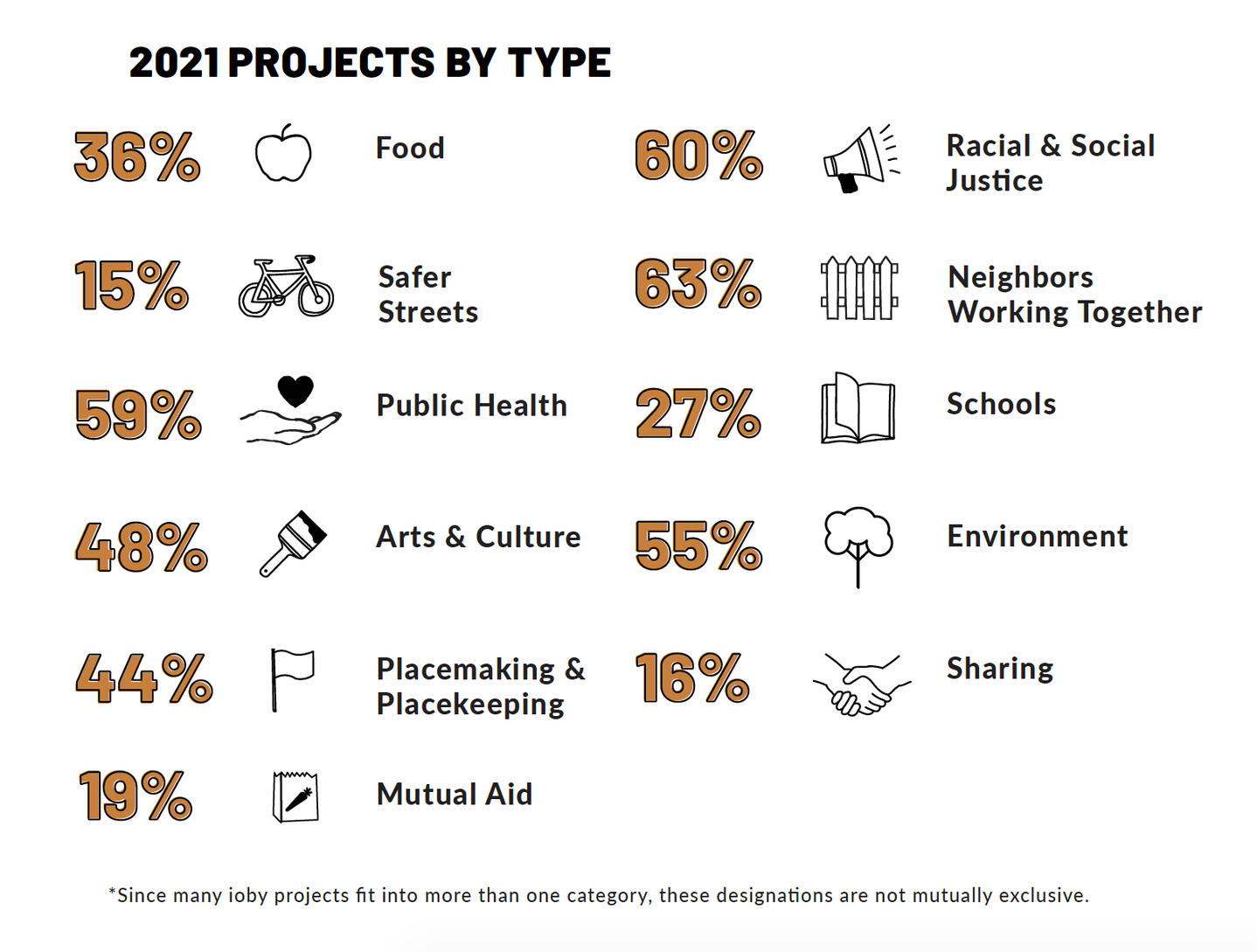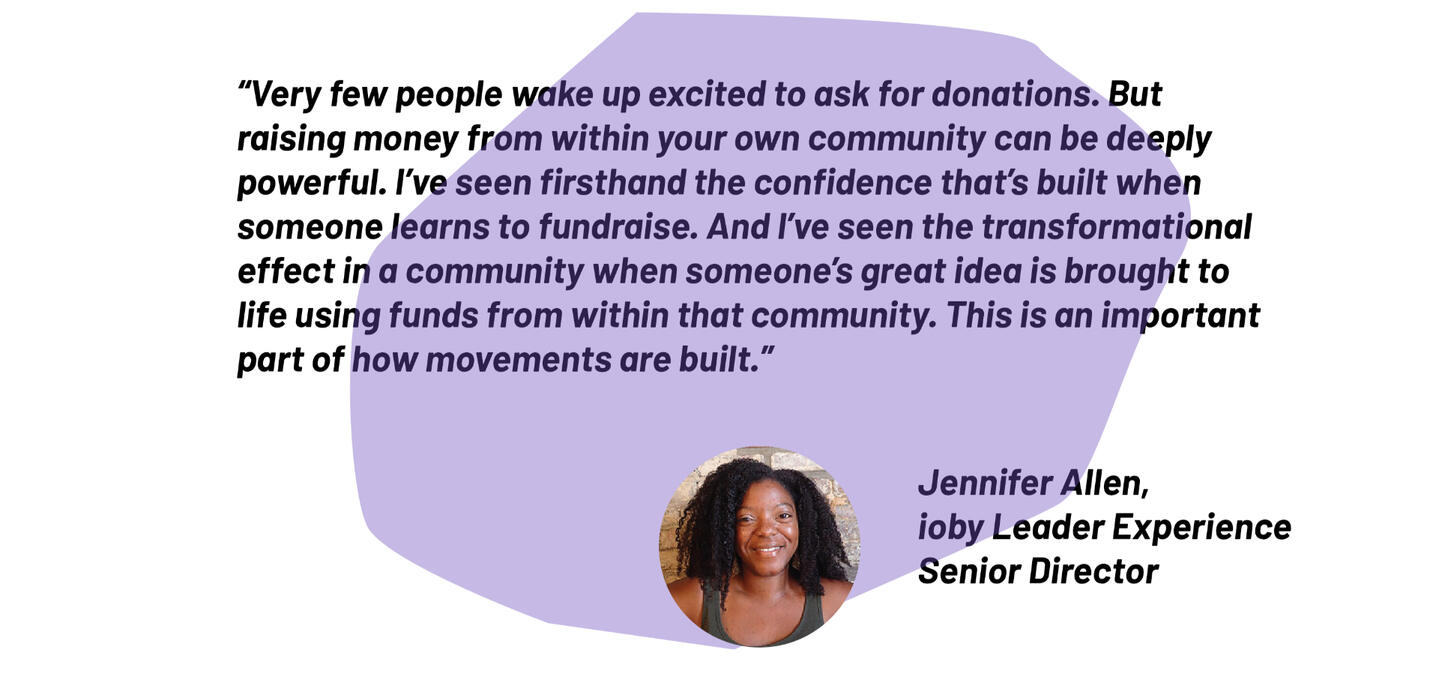 A National Movement, Block by Block
Anyone from anywhere in the US can work with ioby, as long as they have a good idea to make positive change in their community. So far, we've been proud to support local projects in over 300 different cities and towns nationwide, from the Bronx, New York to San Juan, Puerto Rico to Birmingham, Alabama.

When a local leader reaches out to ioby with an idea, they are paired with a one-on-one fundraising coach whose job it is to make sure that leader has the tools and knowledge they need to fundraise successfully. Their fundraising coach helps the leader and their team create a budget, strategize their fundraising asks, and get the word about their project out within their community. If needs change, or if something unexpected happens along the way, the fundraising coach can help the leader change tactics to quickly respond.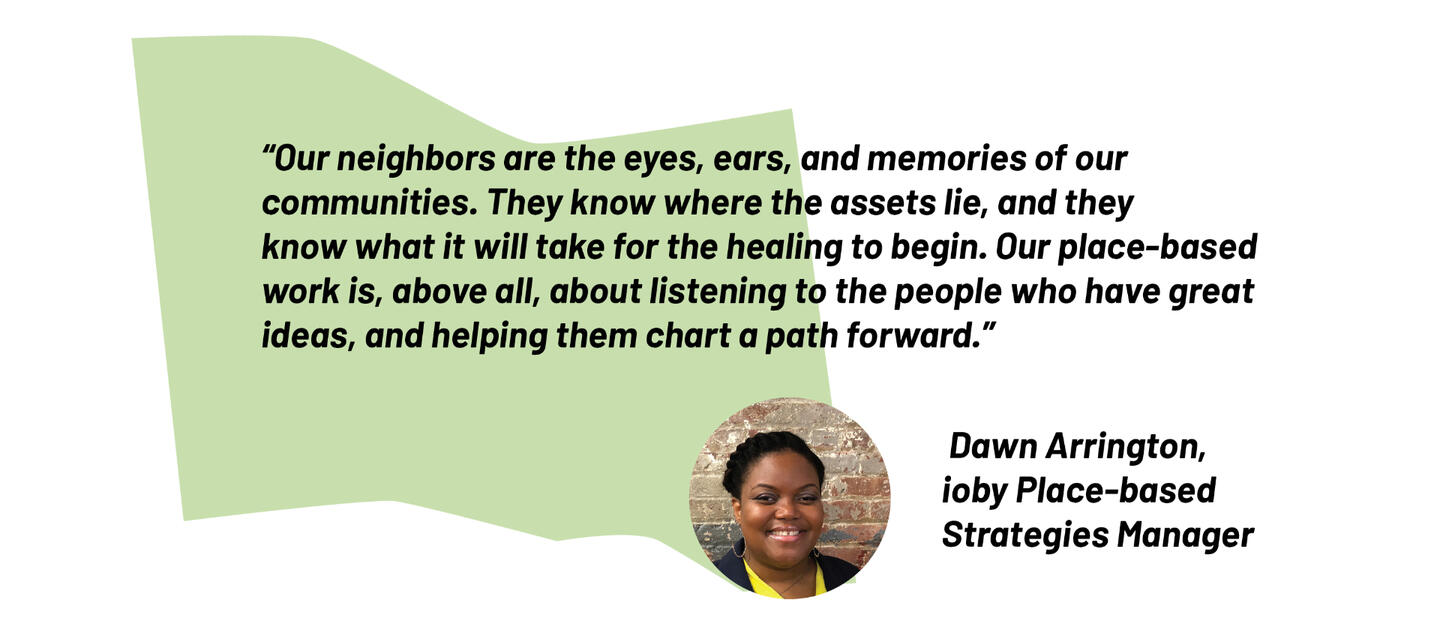 Place-Based Strategies
ioby also has deep partnerships in our places of focus: Cincinnati, Cleveland, Detroit, Memphis, New York, and Pittsburgh. In these places, we pursue place-based strategies to support resident-led change with an intentional focus on reaching neighborhoods with histories of racist-policies and disinvestment. This includes partnering with local organizations and agencies, implementing match programs, and providing on-the-ground support to residents from ioby Action Strategists—staff who work alongside these leaders to build lasting relationships of trust rooted in knowledge of place. This local, more-than-fundraising approach creates ripples within communities that can lead to transformational change, setting ioby apart.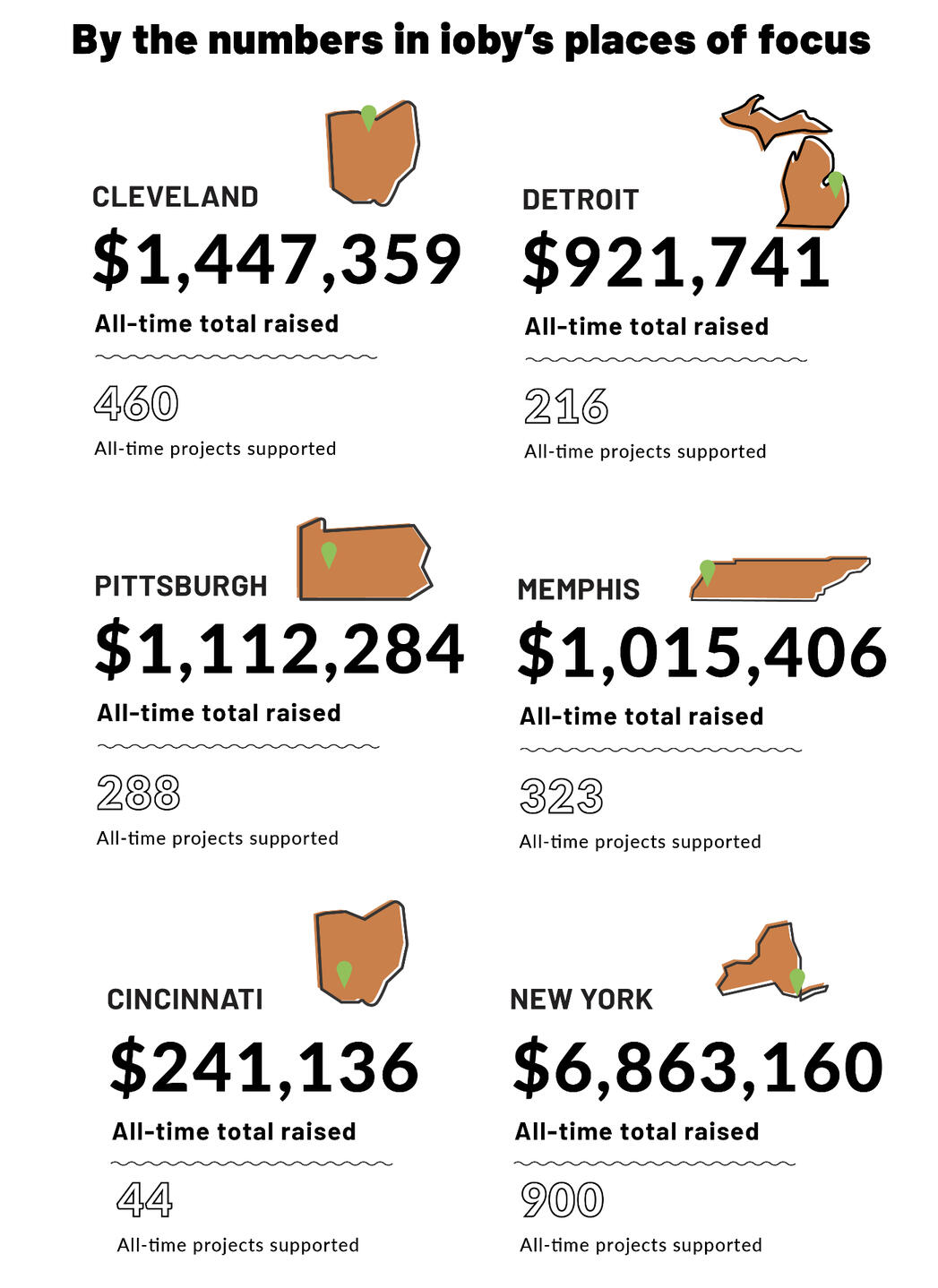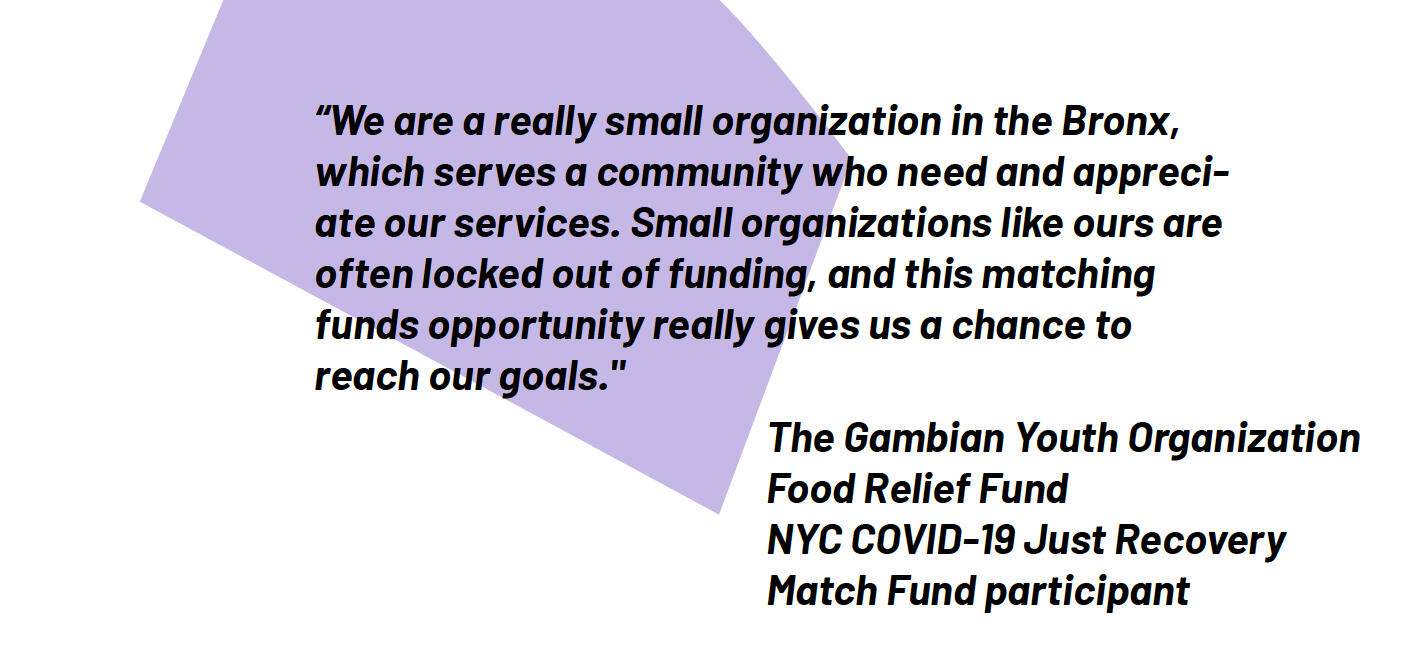 ioby Match Programs
In 2021, ioby implemented 13 match programs in partnership with foundations, corporations, nonprofit organizations, and government.

ioby's match programs are unique partnerships that support those best positioned to make change and build power in their neighborhoods—residents themselves. Match programs provide local projects with an opportunity to double their crowdfunded gifts and access timely, flexible, low-barrier support. By offering a $1 match for every $1 crowdfunded on ioby, match programs are an effective model for getting funding closer to the ground. By providing a meaningful incentive for residents to step up as leaders—many for the first time—match programs provide a powerful boost to neighbor-led positive change.
Supporting COVID-19 Relief and Recovery
In response to the shifting challenges of COVID-19, in 2021 ioby launched new and expanded rounds of COVID-19 focused match programs, with support from our partners, that were able to get timely, right-sized funds into communities to support critical community response and recovery efforts.
2021 Match Program Highlights

With support from the Carol Ann and Ralph V. Haile, Jr. Foundation, ioby launched the Greater Cincinnati Community Recovery Match Program to support residents helping their neighborhoods recover from COVID-19.

ioby implemented a new round of the Cuyahoga Arts & Culture Match Program, supported by Cuyahoga Arts & Culture, for residents with ideas to make their communities more vibrant through the arts. ioby expanded the pandemic response-focused Neighbor Up Match Program in partnership with Neighborhood Connections. And in partnership with the Community Foundation of Lorain County, ioby launched the Lorain and Elyria, Ohio Match Fund, expanding our place-based efforts in the area.

With support from the Ford Foundation and The Kresge Foundation, ioby implemented a new round of the Detroit Match Program for projects fostering a thriving Detroit.

ioby wrapped up the Medical District Collaborative Match Fund in partnership with Memphis Medical District Collaborative, helping residents make the district a great place to live, work, and play.

In partnership with Robin Hood, ioby expanded two match programs focused on providing support to neighborhoods hit the hardest by the impacts of COVID-19. The NYC Just Recovery Match Fund—with a focus on supporting Black communities—and the NYC Neighborhood Relief Match Fund leveraged $420,000 in match funds to support 50 projects with a total of over $1 million in vital funding.

ioby completed new successful rounds of the Con Edison Power Up Neighborhood Match Program—funded by Con Edison to support green space, sustainability, and public art projects—and the Healthy Neighborhoods Challenge—funded by New York State Health Foundation to support local health projects in six communities.

ioby launched the NYC Green Fund Crowdfunding Challenge with support from Partnerships for Parks to improve or maintain, or build community through, NYC's green spaces.

ioby implemented a second round of the Pittsburgh COVID-19 Community Response and Recovery Match Program, focused on neighbors helping neighborhoods to respond and recover, with support from the Henry L. Hillman Foundation.

Why Fiscal Sponsorship Matters
Local leaders often tell us our fiscal sponsorship service is what sets us apart from other fundraising platforms. Here's why.

ioby was founded to support small, upstart, grassroots neighborhood projects and we have fiscally sponsored hundreds of neighborhood organizations since 2010. And, in the past two years, we worked with communities rising in response to a number of serious and interwoven crises—COVID-19 and its economic fallout; racial violence and ongoing systemic oppression; and climate collapse and weather disasters among them. Many of these leaders and groups are not part of traditional nonprofit organizations. They may be loosely organized mutual aid networks that form to serve neighbors with urgent needs. They may be groups of activists who quickly mobilize to fight an acute threat like police violence. They are disproportionately BIPOC-led. Many of these groups facing the most critical needs don't have the organizational infrastructure to legally raise, process, and spend donations.

That's where ioby's fiscal sponsorship services come in. As an equity-focused intermediary, we are able to accept tax-deductible donations on behalf of community leaders who fundraise with us, and quickly turn funds around to be mobilized where and when the need is greatest. Access to urgent funds from within their communities allows grassroots leaders to move quickly to meet emerging community needs as they crop up. This helps grow trust and accountability within communities, and strengthens civic muscle.
Who We Serve
Many of ioby's services, such as fiscal sponsorship, are tailored to serve the "deep roots" and "grassroots," new civic leaders with deep local knowledge, or emergent networks of neighbors who need to mobilize quickly to meet an urgent need in their communities.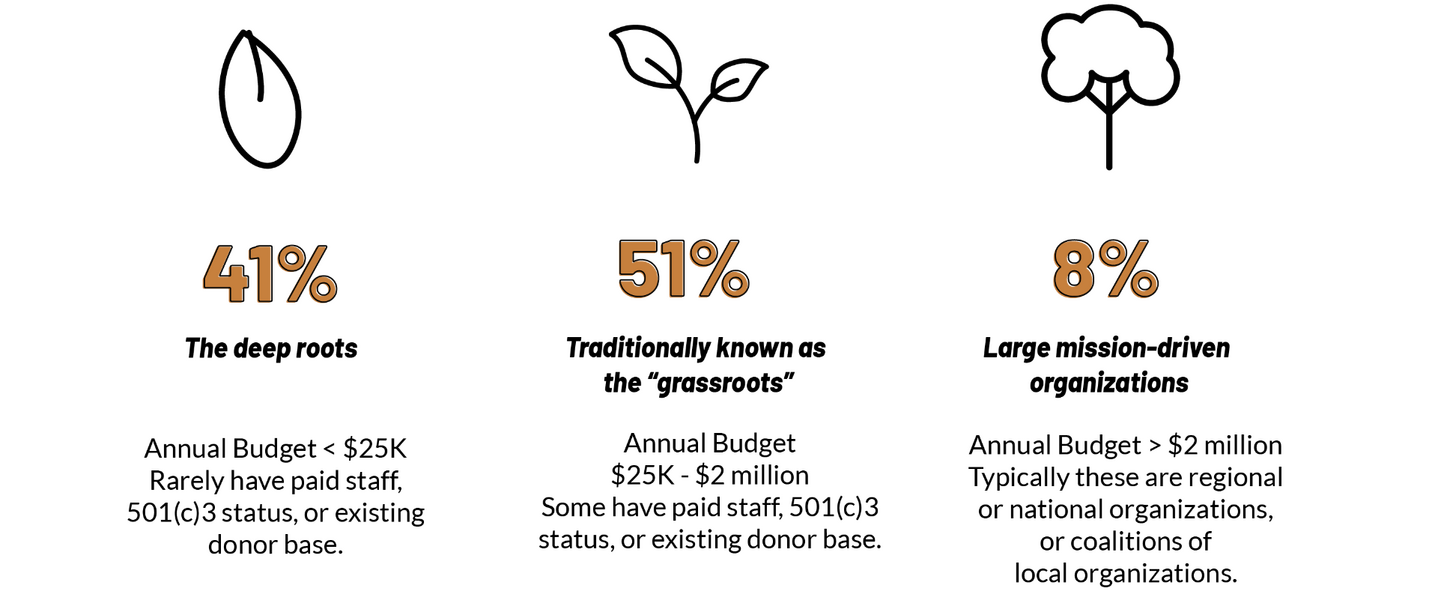 ioby's Journey Toward Racial Justice
ioby's work is rooted in the belief that neighbors are the true experts, but we have never sought to be a value-neutral tech platform. Since our founding, we have focused particular attention on BIPOC communities that have long been overlooked by government and philanthropy, often because of a history of systemic racism. We know that working toward racial justice is a continuing commitment that we have to actively affirm in everything we do. We also know that there's a lot we still don't know as an organization, and so we constantly seek new ways to listen to, be held accountable by, and be led by our BIPOC neighbors.

More on racial justice at ioby: ioby.org/equity
Digital Inclusion Policy
In 2021, we finalized our new Digital Inclusion Policy, a set of principles rooted in our organizational values that are part of ioby's larger Racial Equity & Inclusion framework. From forefronting accessibility in our digital tools to sharing learnings from our data, we see the Digital Inclusion Policy as a guiding and accountability tool so that we make just, equitable product and marketing decisions in both the short and long term.

View the Digital Inclusion Policy.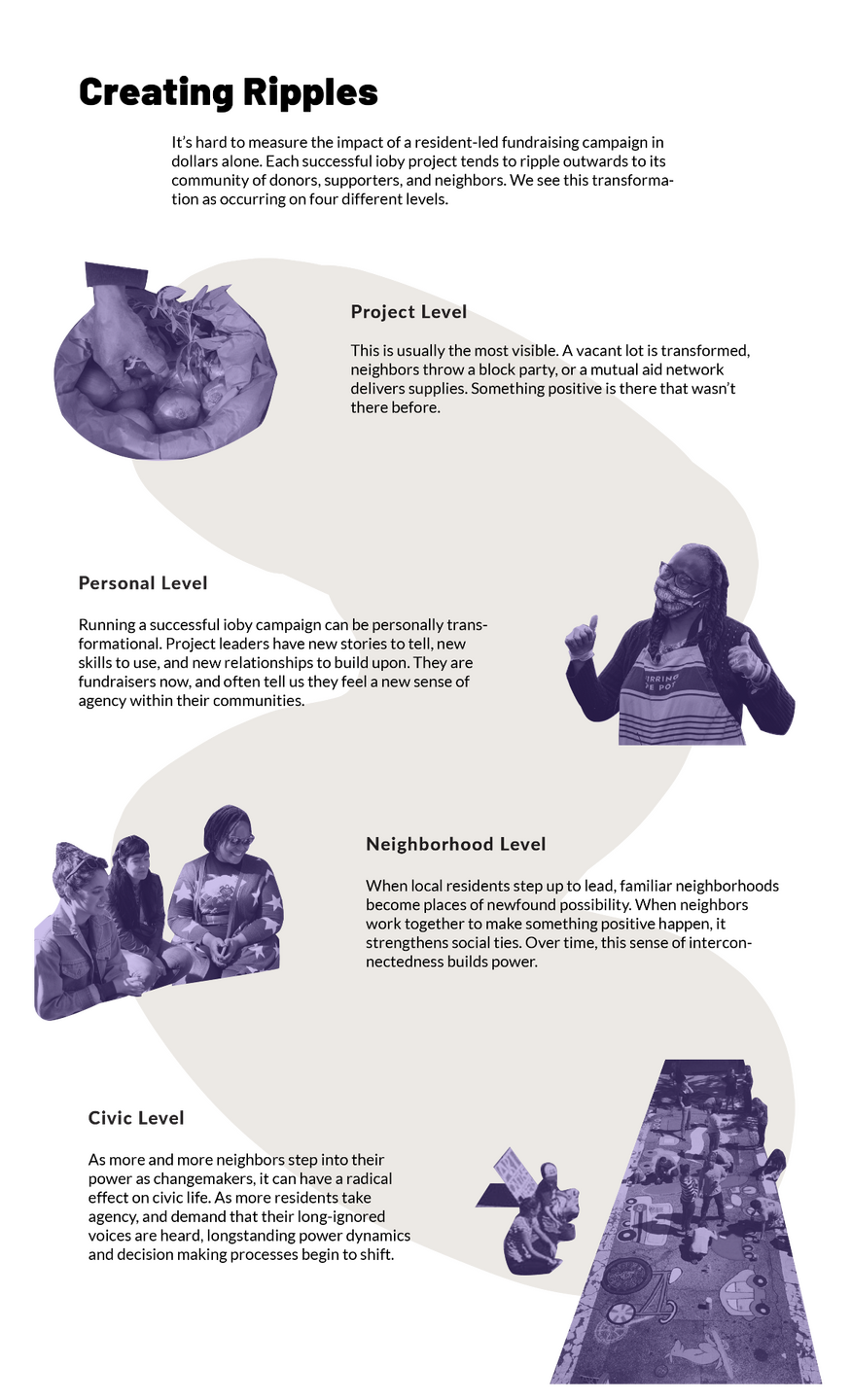 Spotlight: New Board Members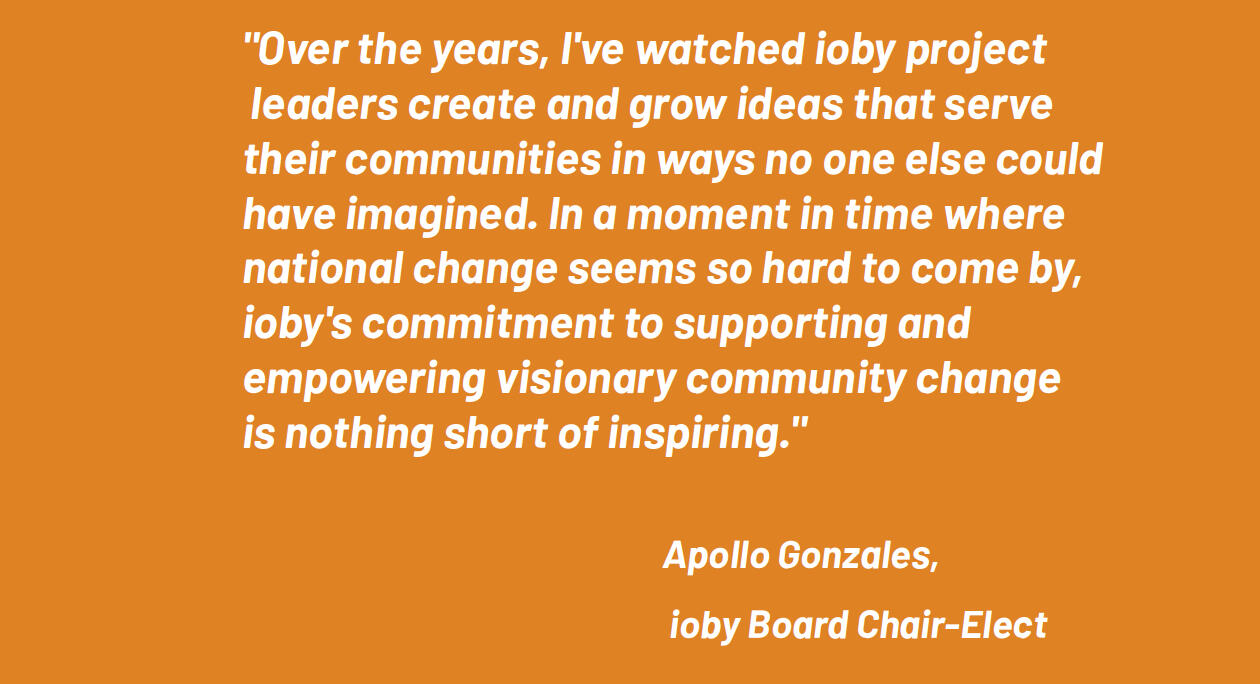 In 2021, ioby's Board of Directors was thrilled to welcome three outstanding new board members, each of whom have brought a wealth of experience and knowledge to the organization:

Loren Blackford, Board Secretary and Investment Committee Chair of the Sierra Club Foundation, is a long-time member of the ioby community and was previously honored by the organization for her work to fuel a fast and just clean energy transition through advocacy, philanthropy, and investing.

Apollo Gonzales, President, Nimbus Strategies, Inc., is a digital communications and advocacy campaign strategist with deep experience in grassroots engagement and developing campaigns for social good organizations. He was recently elected ioby Board Chair-Elect and will become ioby Board Chair starting in 2023.

Omar Parbhoo, Vice President, ideas42, leads the civic engagement practice at ideas42, applying behavioral insights to promote more inclusive and sustained community participation in the US. No stranger to ioby, he worked closely with the organization on research—funded by the Bill & Melinda Gates Foundation—designed to understand how to better increase local giving.
ioby Board of Directors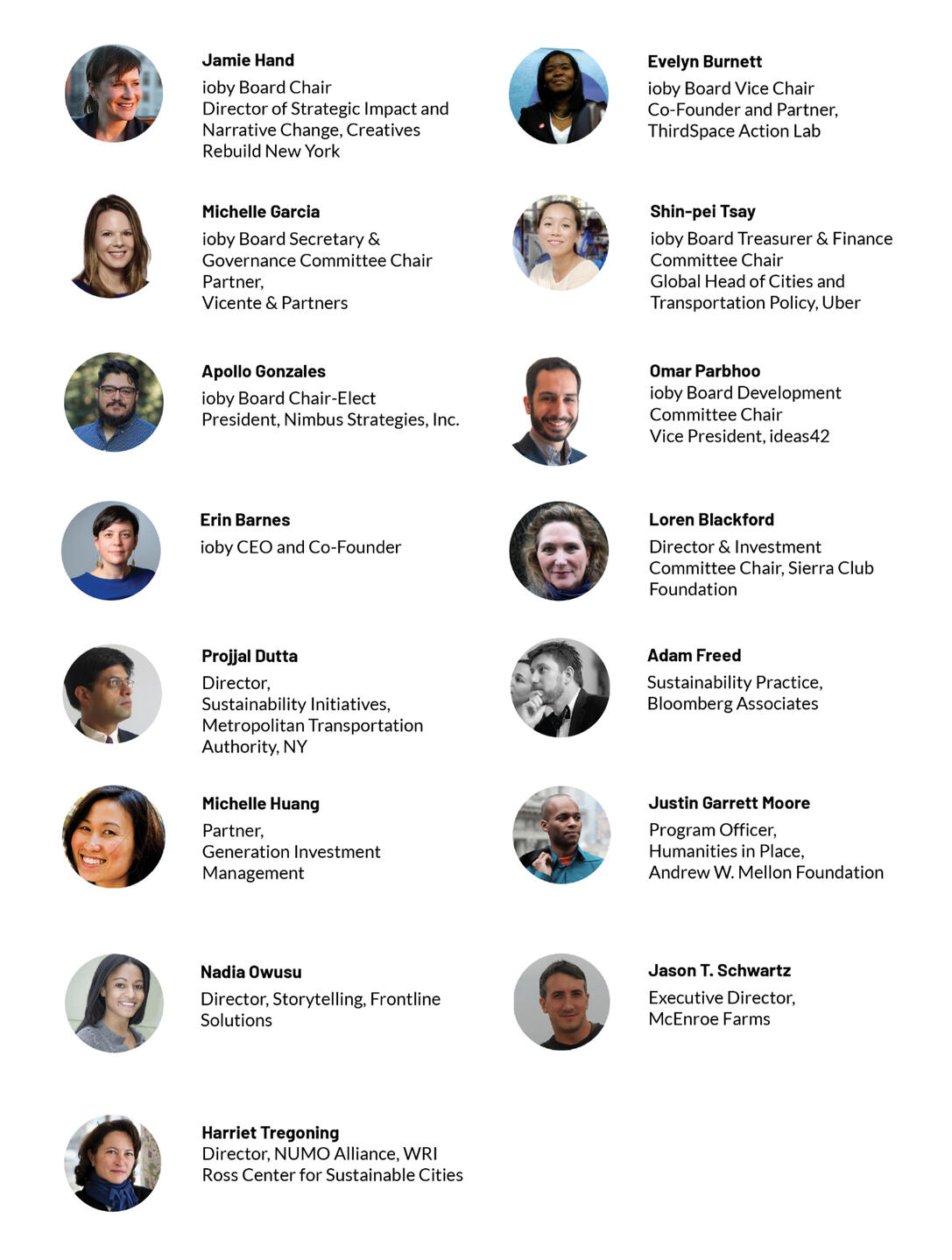 ioby Leadership Council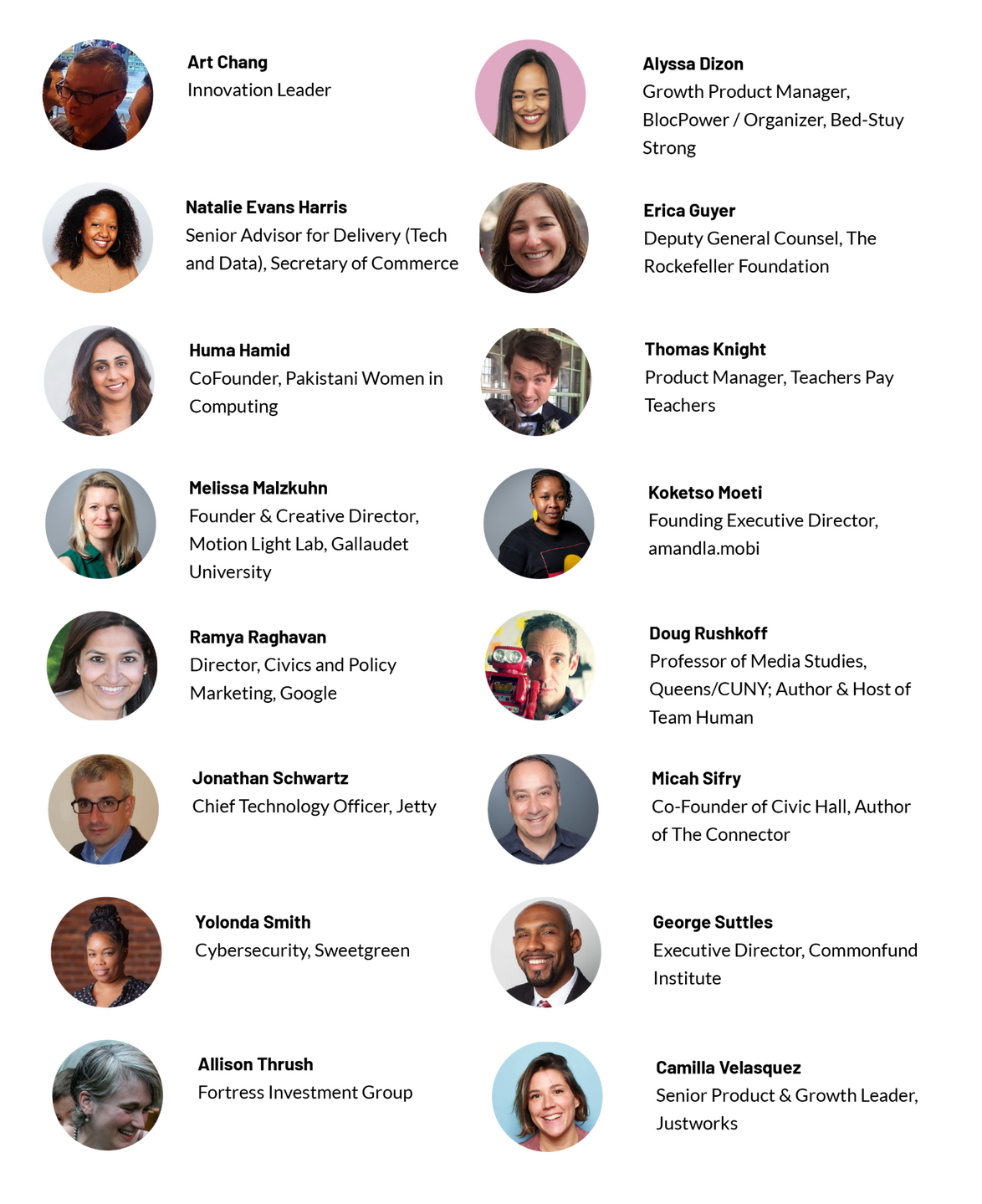 2021 Philanthropic Support
The generous support from the individuals, foundations, nonprofit organizations, and businesses listed below made ioby's 2021 work and tremendous impact possible. We are incredibly grateful for their dedication to supporting resident-led positive change in communities across the country.
Foundations, Nonprofit Organizations, and Businesses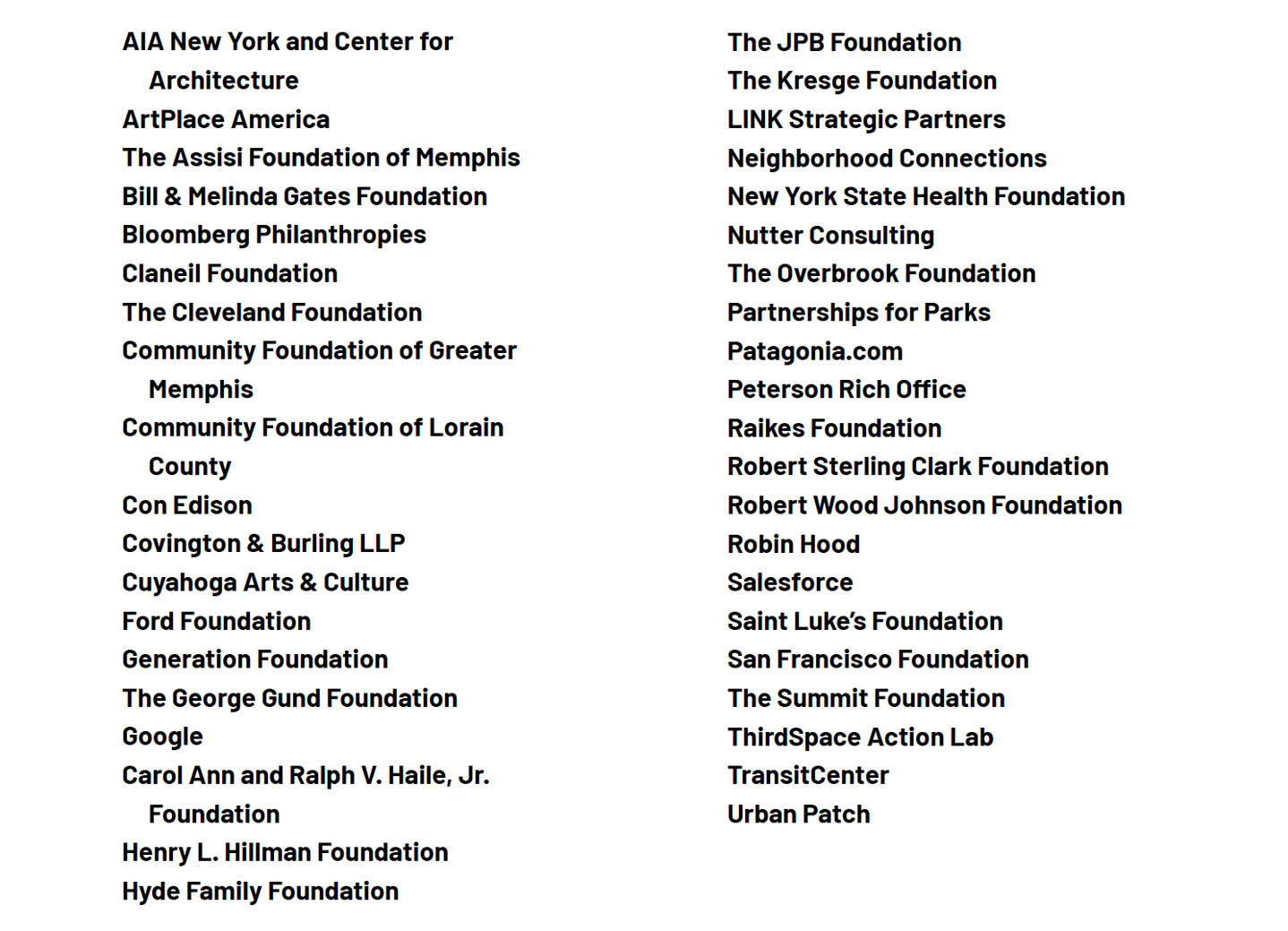 Individual Donors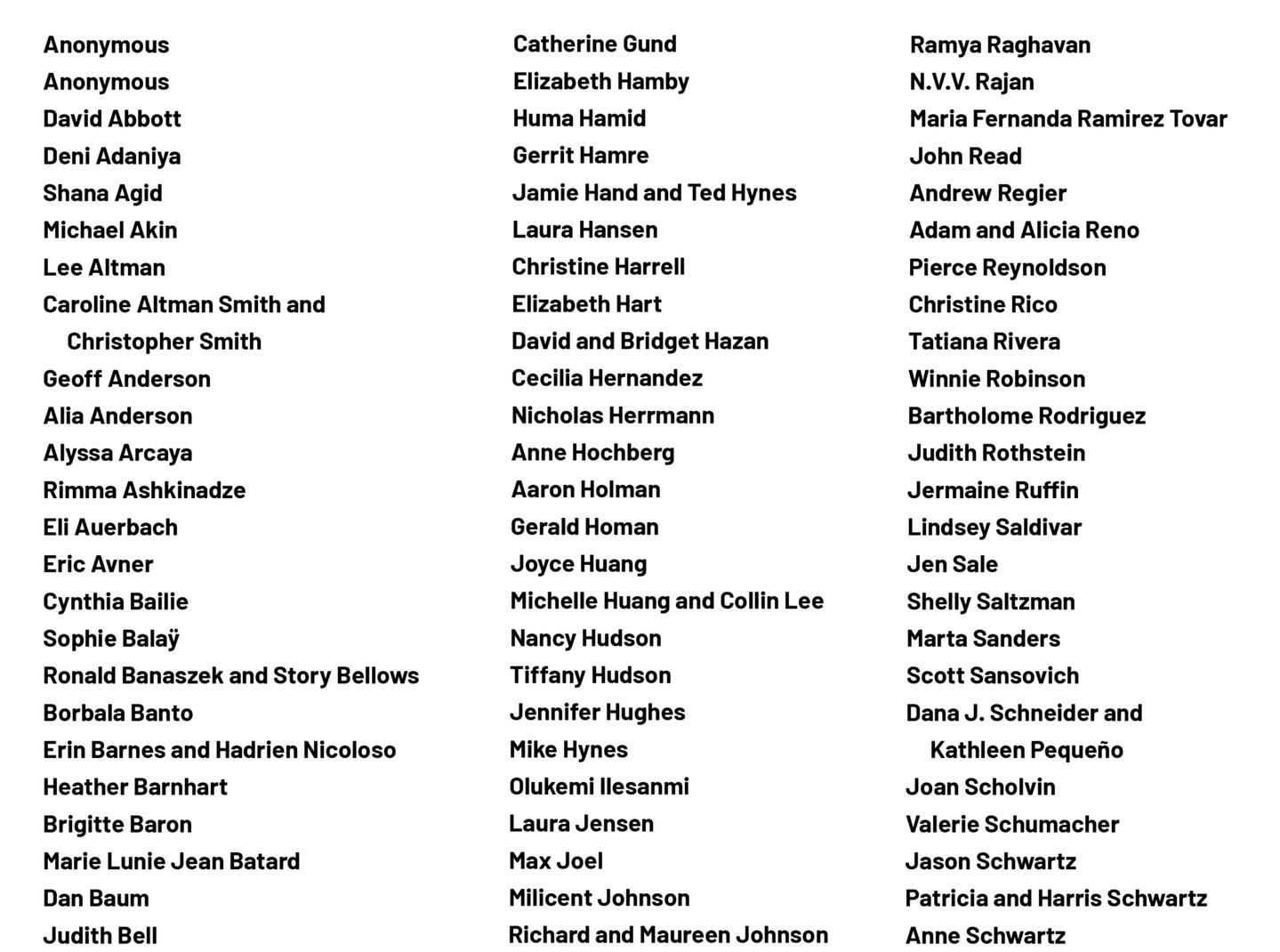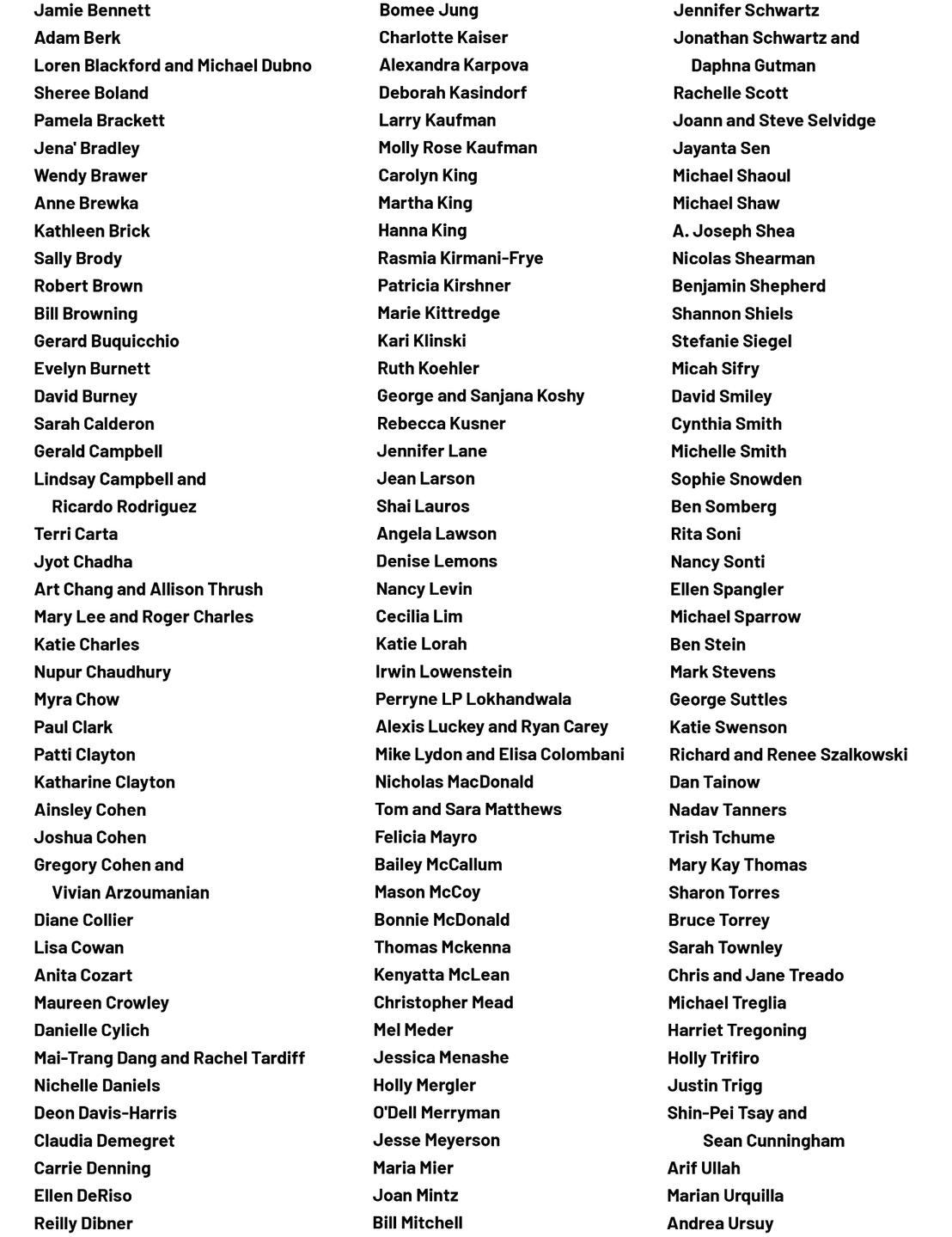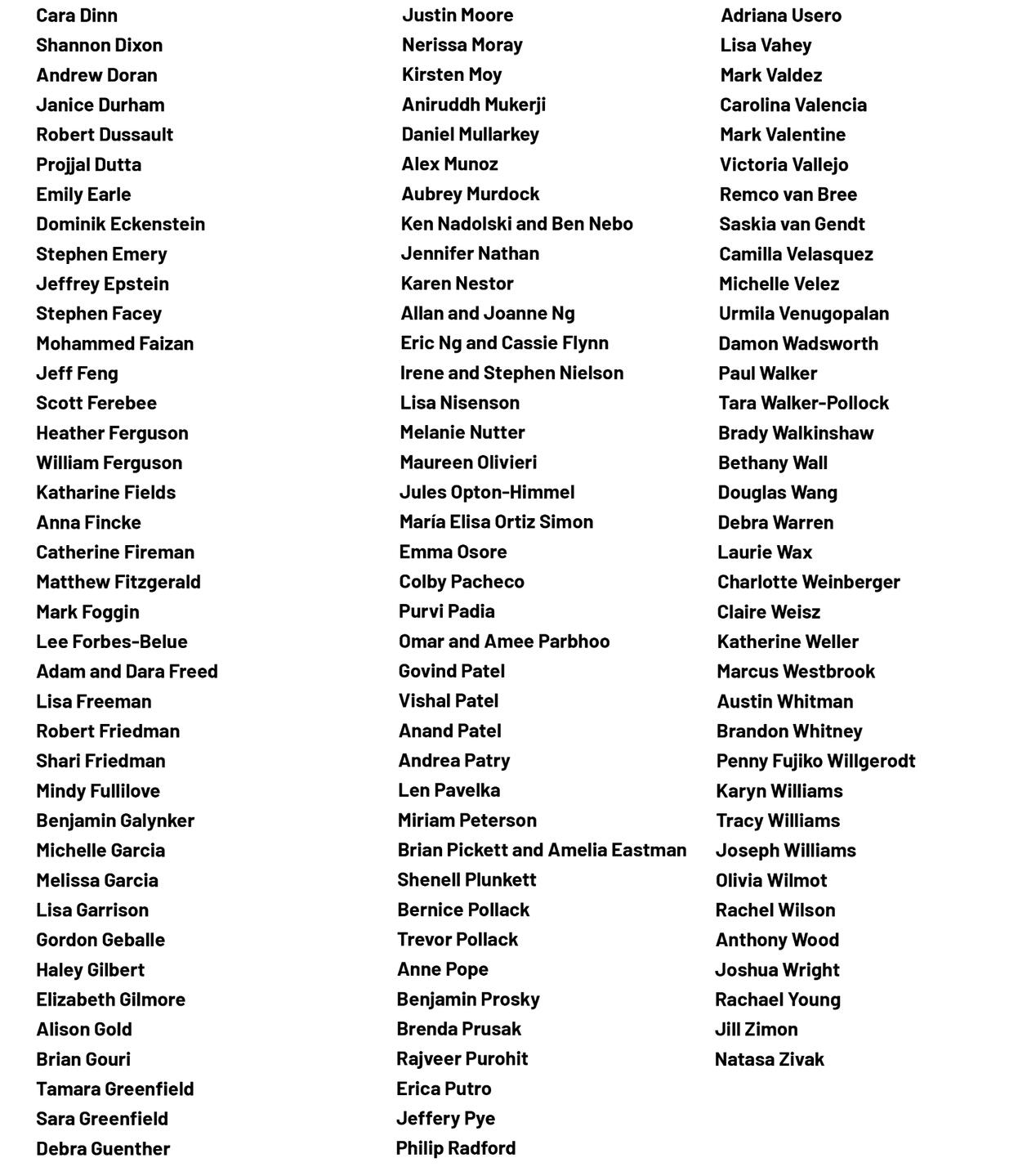 Spotlight: What's Next?
With your support in 2022, ioby will:

Build and release a new ioby.org! Using the lessons of serving leaders through the crises of the past two years and guided by our Digital Inclusion Policy, ioby will rebuild its technology platform to better support local resident-led action and increase civic participation.

Provide resources, coaching, responsive support, and fiscal sponsorship to make it easier for residents to take action and make positive change on a local level.

Reach and support local resident leaders nationwide, while continuing place-based approaches with residents in Cincinnati, Cleveland, Detroit, Memphis, New York, and Pittsburgh. ioby will also continue to explore expanding to new places of focus in the South, guided by our recent Phase 0 research (ioby.org/South).

Continually evaluate and evolve our Racial Equity and Inclusion framework that was co-created by ioby's staff and board.

Expand our Match Program partnerships with local governments, corporations, foundations, and nonprofits, so that more local projects will get the boost they need and more partners can increase the impact of their funding in the communities they care about. This will include launching an exciting new arts & culture match program in partnership with the City of Sacramento!

Thank you!